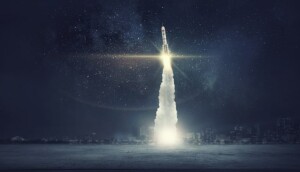 Industry Related News: United States – (March, 2019):
SpaceX is reportedly performing heat shield thermal testing on its Starship spacecraft project, according to CEO Elon Musk. In a series of posts on Twitter this week, Musk unveiled a tantalizing glimpse at a SpaceX's thermal test of the hexagonal heat shield tiles that will protect its Starship vehicle as it re-enters the Earth's atmosphere. SpaceX is developing Starship and its Super Heavy booster for deep-space trips to the moon and Mars. "Testing Starship heatshield hex tiles," Musk wrote in a post Sunday (March 17). He also posted a short video of nine hex tiles being bombarded by flames.
In subsequent posts, Musk said the heat shield test was a success, with the tiles surviving a full-duration re-entry profile. At times, the hottest parts of the tiles withstood heat shield thermal testing temperatures of 1,377 degrees Celsius — that's a whopping 2,510 degrees Fahrenheit! The hexagon is a great shape because it offers "no straight path for hot gas to accelerate through the gaps," Musk said. If tests show any heat shield erosion for Starship, SpaceX plans to add additional cooling systems to protect the spacecraft.
Space.com, "SpaceX's Hexagon Tiles for Starship Heat Shield Pass Fiery Test" Space.com,  March 2019,  Accessed 26 March 2019.
ABOUT KHOURY INDUSTRIES
Khoury Industries is a worldwide leader in temperature testing equipment for device characterization, thermal cycling and failure analysis. Khoury Industries designs and manufactures custom thermal testing chambers and microwave thermal testing fixtures used in a variety of industries including: military, space, automotive, medical, research, and communication fields. The Khoury Box and the patented ELI-1000 have quickly become industry favorites as thermal testing devices used to ensure the reliability of industrial and electronic products through prolonged exposure to extreme conditions.
 For more information, contact:
Penny Aicardi
Khoury Industries
5 Mechanic Street
Bellingham, MA 02019
sales@khouryindustries.com