Thermal Testing Solutions
Khoury Industries designs and manufacturers thermal testing solutions including environmental test systems, compact portable benchtop systems, test chambers and fixtures for a wide  variety of applications. Manufacturers of the industry leading Khoury Box and ELI-1000.
Let us help you find the solution to…
Fast Temperature cycle, Thermal Stress Screening, Test Chamber Fixtures
Temperature Characterization
Temperature Testing, Thermal Shock
Product Development.
LifeTesting, Thermal cycling, Thermal inducing and Failure Analysis
If you're interested in our thermal testing solutions, give us a call today at (508) 380-5709 to see how we can help you. Our team is ready to assist with answering any questions that you may have.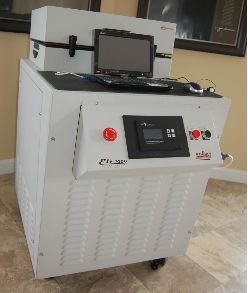 Controlling temperature with precision at the device case is a major benefit of the Khoury Box thermal test fixture. The DUT is isolated in a localized enclosure (at temperature) with the thermal air circulated around the device under test or DUT. This process brings the device/assembly to temperature and therefore reduces soaking time. Tester interface utilizes impedance-matched connections to ensure true and accurate test signals between the tester, the thermal test fixture, and the DUT.
Click Here to download a Universal RF/Microwave data sheet on the Khoury Box:

Click Here for a sales flyer on the industry-leading Khoury Box:
Introducing the ELI-1000
A Remote, Compact Thermal Testing Solution
This revolutionary system combines a thermal source and custom or standard chamber into one system. The interchangeable chamber feature of the ELI-1000 allows users to easily accommodate their varying testing needs.
Click Here to download our specification sheet on the ELI-1000: