Thermal Chamber | Temperature Chamber
Electronics are a big part of technological advances found in everything today – including many of the parts found in automobiles, video game systems, medical equipment, airplanes, and even military weapons. These parts are subjected to extreme temperature fluctuations and transitions during use. Khoury Industries proudly manufactures the industry-leading Khoury Box, a temperature chamber or thermal chamber that holds the device-under-test so that thermal testing can be done to ensure reliability and durability of a product.
Specifically, the device-under-test is placed into the temperature chamber or thermal chamber and subjected to rigid thermal cycling in which the air is raised and lowered between temperatures that may match or exceed expected service environments to simulate different conditions. The Khoury Box temperature chamber operates in temperatures ranging from -80˚C to +225˚C.
The Khoury Box is ESD-Free and/or EMI Shielded, and most systems are available with European CE standards. The Khoury Box also provides an electrical noise-free, moisture free environment. In addition, our temperature chamber boasts 50 ohm impedance-matched connections and shielded signal paths used in the tester interface which provide clear, accurate signals between the tester and the device-under-test.
A Khoury Industries thermal chamber is an ideal solution for failure analysis, temperature characterization, thermal test screening, thermal shock, thermal inducing, life testing, and fast temperature cycles, and functional testing.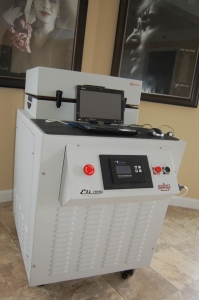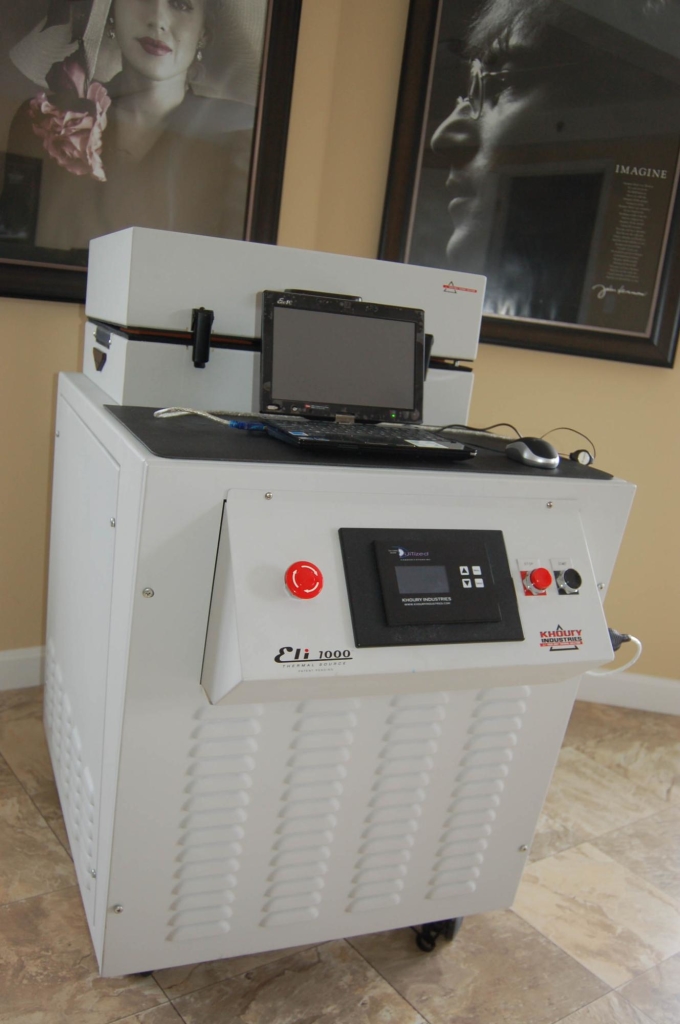 The ELI-1000 Thermal Chamber, a revolutionary temperature control system that combines a closed-loop thermal source and interchangeable custom/standard testing chamber into one compact, energy efficient system with a standard 110 volt electric source, has surpassed long-term sales expectations set when it was released five years ago.
The aim of this Thermal Chamber is to provide testers a precise, convenient all-in-one system at an affordable cost. The patented technology in the ELI-1000 allows for a steady state operation with a heating/cooling system that can be operated and controlled independently of each other.  Other features of the ELI-1000 include:
Removable, exchangeable thermal chamber
Compact design measures only 19"Wx30"Dx28"H
Communication ports include USB, RS485, RS232, GPIB, and Ethernet
Type T, K, or RTD DUT Sensor Ports
7" user-friendly touchscreen for full system operation
both analog and digital inputs
Simplified and accurate calibration for all airflows and DUT types
An operating temperature of -70ºC to +200ºC
Updates are made to the ELI-1000 to customize for special projects. An example would include our latest development made in conjunction with a government entity and IBM. The ELI-1000 application tests a new module in which the RF microwave testing can go as high as 110 gigahertz (GHz) using RF cables and wave guides. It is a research and development project for 2020-2025.
A thermal testing chamber artificially replicates the extreme temperature conditions under which machinery, materials, devices or components might be exposed.
Components are placed inside the thermal chamber and subjected extreme temperatures measuring integrity and reliability.
Khoury Industries is committed to delivering the most advanced thermal test solutions to its customers through highly qualified engineering professionals. In fulfilling that commitment, Khoury Industries continually seeks to extend its expertise and differentiate the company and products in a highly competitive market. We even work with and compete with NASA.